As we have come to specialize in storm repair and restoration, siding replacement has become a large part of our business.  In most cases, when a roof has been damaged by severe weather, the siding will have been damaged as well.  Each Tuttle Representative is trained to not only assist with your roof replacement but with all of your exterior home repair needs.
Even better, when using Tuttle Contracting for all of your storm repair needs we can ensure everything that was damaged is included on one claim – meaning you only have the cost of one deductible.  See our page on The Tuttle Method for more information on minimizing your out-of-pocket expense.
Siding Damage
Like roofing, high winds will tear siding off the house – sometimes by individual pieces and other times whole sections.  Hail stones will crack and leave holes in the vinyl siding, dent metal siding, and will leave divot like indentations in wood, wood composite, and fiber cement siding.  In either event the immediate damage is cosmetic, but without the exterior protective covering (the siding) water can penetrate the exterior walls or become trapped behind siding that still remains attached to your home.  This penetration of water is where problems will start to show up: appearance of mold, warping boards, delaminating boards, swelling, cracking sheetrock, peeling or bubbling paint, or general appearance of moisture on the interior of the house.
Prevention of any of the above signs is far better than waiting for them to appear before you contact a professional.  When you contact Tuttle Contracting, your Tuttle Representative will complete a full damage inspection of your home, even if you have only concerns in one area.  When it comes to exterior waterproofing of a home, it is our belief that an ounce of prevention is worth even more than a pound of cure.  Just like roofing damage, if any concerns are found everything will be photographed, the time taken to explain the damage, and only after your approval we will work directly with you and your insurance company to restore your home.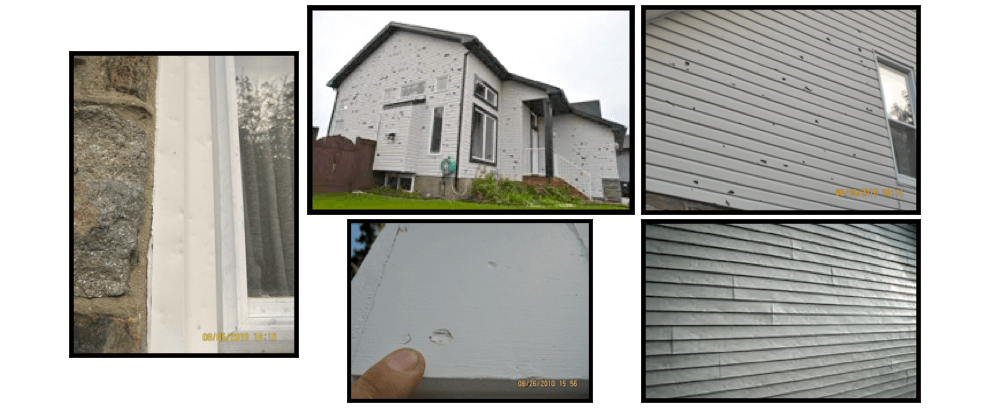 Siding Selection
Unlike roofing, it is common to only have siding damage on two or three sides of the house – the sides that were exposed to the direction of the storm.  Because of this, most customers are not looking to make color or design changes to the house.  In these cases, what is most important to them is that the new matches the old as closely as possible. 
Siding that is not very old is very likely still being made in the same design and color and an exact match will be available.  But like almost every other industry, the siding manufacturers are commonly discontinuing a design or color and releasing something new to encourage the purchase of the "latest and greatest" materials.  If your siding has been discontinued and is no longer available, your Tuttle Representative will provide documentation to your insurance company that the material is no longer available and work with the insurance company to settle your claim with sufficient funds to repair your siding so your home doesn't look "patched" together.  Insurance companies and their policies can vary, but at Tuttle Contracting it is our goal to repair your home so that it is not only safe and secure, but that it is also cosmetically appealing. 
If all of your siding has been damaged, you have the opportunity to be able to change the look and the design of the house by selecting different products, colors, or shapes of siding with little or possibly no additional expense to you.  Below are some the products commonly used and their advantages.
Vinyl Siding
Vinyl siding is becoming a very popular option as it is affordable and almost 100% maintenance free.  In addition, as technology has improved the manufactures are producing products that look more like painted wood siding and less like plastic.  Today there are more shapes and designs available than just your basic Straight to Dutch-lap siding with dozens of color options to choose from. In many cases vinyl siding is the recommended choice when replacing siding on your home.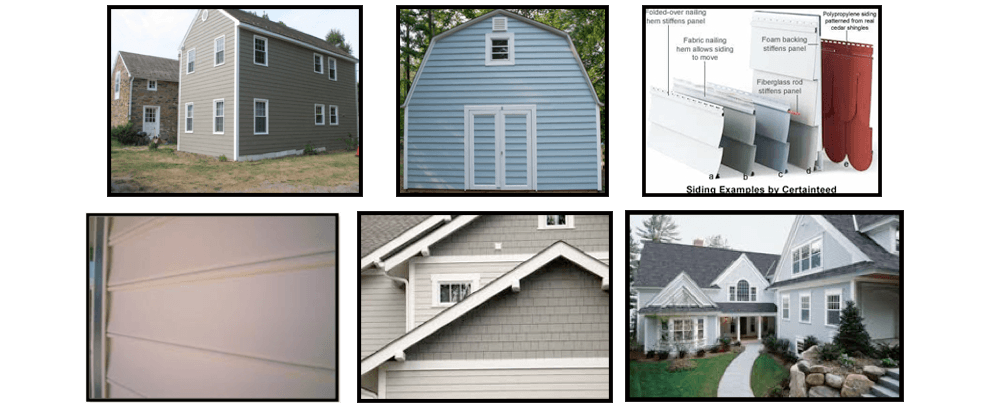 Aluminum Siding
As aluminum sidings cost has continued to rise without providing superior performance, it has beecome a second choice to vinyl siding.  Because of the reduced demand for the product there are few designs and colors available and it is likely the product will be special order as it is no longer kept in-stock locally.  One advantage of aluminum over vinyl is that the product is paintable allowing you to choose any color under the sun.  But, that is equally a disadvantage because it will need to be maintained and repainted on schedule.  The greatest advantage of aluminum is that when properly maintained it will virtually last forever.  If you are considering aluminum as an option, make sure to check with your Tuttle Representative on the availability in your area.

Wood Siding
In many parts of the country wood siding is still the standard for covering homes, and why not? It is the original that vinyl, aluminum, and fiber cement trying to duplicate.  So why do people who have "the original" choose something different?  The two primary reasons are initial cost and maintenance.  Wood siding is expensive to purchase and requires the greatest amount of labor to install, plus it must be immediately painted or stained.  Then, every few years the wood siding will need to be treated again (painted or stained) to prevent rot and deterioration.
If you are considering upgrading to wood siding, talk to your Tuttle Representative about the initial expense of installation and the cost of ongoing maintenance.

Fiber Cement Siding
Fiber cement siding is the newest of siding choices available, becoming commonly used and available in the late 90's and early 2000.  Fiber cement boards are pressed boards constructed with recycled natural and artificial materials.  The advantage of this is it is environmentally friendly, nonflammable, termite resistant, and will not rot or deteriorate regardless of maintenance, but painting is advised.  The boards are available in a variety of shapes and sizes and are made to simulate real wood siding – but not have the disadvantages of real wood maintenance.  Similar to wood siding, fiber cement siding is more costly than other options; both in material and labor to install.

Siding Installation
Each type of siding requires different installation guidelines, but the important thing is that the siding is installed as a system.  In other words, what you see as the siding is NOT the only thing waterproofing your home.  If the siding system is not installed with all of the proper materials and in the right steps, then problems are likely to occur.
First, and one of the most important steps, is installing a moisture barrier on the wall that will later be covered by the siding.  In the past almost everyone used black tar paper, same as for the roof, to create a moisture barrier for the house.  Since using tar paper on the wall has all the same disadvantages of using it on the roof, superior products have been developed and should always be used instead of tar paper.  Tuttle Contracting always installs a synthetic moisture barrier that will not rot or deteriorate over time.  In addition, synthetic moisture barriers are designed to allow water vapor to escape out of the house, but not allow water droplets in.   If water does penetrate behind the siding, it cannot penetrate the moisture barrier.
After the surface has been prepared, window trim, corners, and other trim pieces will be installed.  The final step is installing the actual siding panels or boards themselves.  Siding is always installed from the bottom up, with each piece overlapping the piece below it.  No matter what kind of siding you choose each piece must be cut and fit individually to ensure an attractive and waterproof finished product.
If you have chosen a product that requires painting, another coat of paint or stain is advisable after the product is installed.  This will make sure to seal every joint and cut that was made in the process of installation resulting in siding that will last longer and be less maintenance in the years to come.
Siding is a detail oriented job because it is the final finished product you will see every day.  At Tuttle Contracting we have been doing this kind of work since 1984 and take the time to train our people so the results today are the same results we have built our business on.  Every Tuttle Representative is dedicated to taking care of the customer and ensuring the job is done properly.